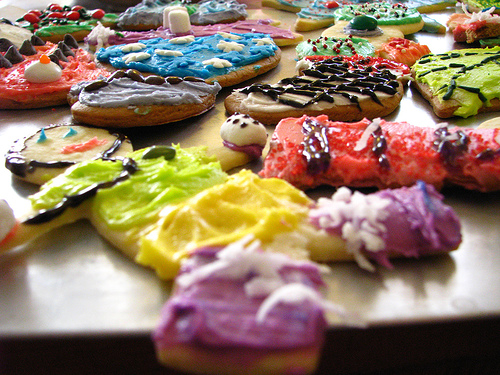 December is one of my favorite months of the year, filled with sugary treats and generous signs of goodwill towards others. My family's Christmas cookie party is one of the traditions I look forward to each year.
When I was little, my mother would invite all the neighborhood children over to our house for an afternoon of cookie frosting, games, and Christmas cartoon specials. Tablecloths covered the kitchen and family room floors where children with plates of cookies, sprinkles, and frosting would sit.
Before the day was over frosting and sprinkles would be on children, clothes, carpet, and cookies. At the end of the day, mom would wrap up any remaining cookies and send them off with families as they picked up their happy kids.
My mom originally came up with the idea as a way to give back to the neighborhood. By hosting the neighborhood cookie party, she gave the gift of time to the parents. The cookie treats were always treasured by the neighbors because their children decorated them.
This year the cookie tradition continues at my mom's house, but this time it is the grandkids that get to join the neighborhood kids and frost cookies. The cookie decorating tradition continues to be a festivity our family looks forward to every year.
This holiday tradition continues with many of my brothers and sisters as we host Christmas cookie parties in our own neighborhoods. Tomorrow learn how to plan and host your own neighborhood Christmas cookie party.
– Carolyn Flynn
Flickr photo by sushiesque
What are some of your favorite holiday traditions? What childhood memories do you continue with your own family. Share in the comments below.
Carolyn Flynn is a Relationship Expert and author of Heal Your Grief, SMART Talk, and Holiday Peace And Joy.
Halloween was always a fun time at our house. Every year my mom would dress up as a witch, decorate the house and yard and invite all the neighbors to come over. With her spooky music playing in the background she would excitedly await the costume adorned trick-or-treaters.  Our house was at the end of a long circle with many empty lots waiting to be built upon.  My mom was well aware that your average trick-or-treater and accompanying parent were not about to go down that long dark pathway for a couple of houses and fun-size candy bars.  Being the party-girl who loved to celebrate she knew she had to make it worth the journey if she was going to get trick-or-treaters to come to our house.  So not only did she dress up in full costume, decorate, and play scary music, she went big on the treats greeting guests with her cauldron of hot apple cider, fresh glazed donuts and king size candy bars.  Parents and trick-or-treaters would linger in the front entrance enjoying a break from the crisp October night, downing warm drinks and sugary treats, and chatting away about the night's festivities.  Our house was the best trick-or-treating spot in the neighborhood – and we loved it.
– Carolyn Flynn
What are some of your favorite family traditions and childhood memories?
Carolyn Flynn is a Relationship Expert and author of Heal Your Grief, SMART Talk, and Holiday Peace And Joy.