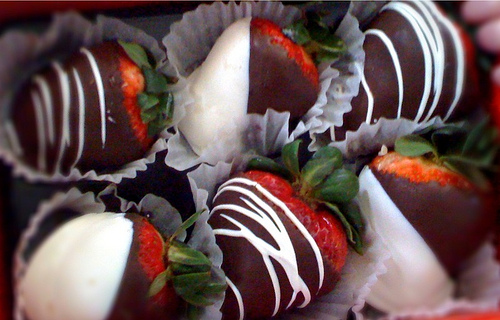 A box of Valentine's chocolates or chocolate covered strawberries are sure to bring Valentine romance to your relationship. Whether you are dating or married Valentine's chocolate is always a good Valentine's day gift.
Make your Valentine's chocolate together or beforehand by melting chocolate in a double broiler on your stove or with a fondue kit for dipping. Have fun covering strawberries, sliced fruit, cookies, marshmallows and whatever else you'd like in the warm melted chocolate.
Your romantic relationship will heat up with creative Valentine's gifts and romantic ideas.
By Carolyn Flynn
Flickr Photo by PieDogMedia
Carolyn Flynn is a Relationship Expert and author of Heal Your Grief, SMART Talk, and Holiday Peace And Joy.
As another season of The Bachelor comes to an end I had to take some time to think about the fantasy dates that occur on the show versus dating in real life.
I have to admit my heart skips a beat, watching the exotic fantasy dates as contestants are whisked off to far away places, given designer shopping sprees, presents of diamonds and evening gowns, and private concert performances. All those childhood fairy tales and fantasies coming to life on my TV screen. Who wouldn't want to be on a show that has the potential for lavish dating, Neil Lane diamonds, and a paid for dream wedding and honeymoon. Doesn't every girl dream of being Cinderella, even just for one day. The Wedding industry has become a billion dollar business trying to make every girls' fantasy fairy tale dream come true. ABC is offering the chance for your dreams come true – and they'll pay for it too. (Now you just have to deal with the cat fights, competition, cameras, and the latest drama they've stirred up to increase the ratings. But hey, it's a small price to pay to be Cinderella for a few days.)
The fantasy date may make you feel like you're Cinderella, but some how it doesn't quite make it to the end where "they lived happily ever after". The Bachelor's statics will show you that fact with only one contestant making it to marriage and family, and a second getting his happily ever after with a do-over, an oops I chose the wrong Cinderella, but hey, he got it. (How many of us Bachelor fans are wishing Aaron would request a do-over and reconnect with Gwen, and maybe make it a third happily ever after.) The surprising marriage success is not for those contestants finding love on the show, but those who found their "happily ever after" after being on the show. Marrying men they had previously known or been friends with, often from their own hometowns. No cameras, no lavish dating, no whirlwind romance dating competition and travel all over the world. Just simple dating and being friends.
In my own life I realized a zero correlation to fantasy dates and the potential quality of a relationship. My best relationships have been with those I was happy just hanging out with. Being single we dream of that prince charming date that will sweep us off our feet. Those are great stories to remember and dream about. But when it comes to love and marriage we typically want more. Something deeper, more earthy, and real. Someone we can talk to, hang out with, cuddle with, and be ourselves with.
The secret to a strong relationship and a happy marriage is to find a balance of fantasy and reality. Go on exotic trips, buy expensive presents, stay in honeymoon suites. But also spend time hanging out, playing in the park, eating pizza, and watching the stars. You'll be surprised to find that it is the simple dates and time together that will really make your heart sing.
By Carolyn Flynn
Flickr photo by Sean McGrath
Carolyn Flynn is a Relationship Expert and author of Heal Your Grief, SMART Talk, and Holiday Peace And Joy.