The holidays can be an extra stressful time of year. The never ending demands of holiday parties, programs, shopping, and guests can leave you feeling frazzled and fatigued. Your visions of peace and joy may run out the door when irritability and overwhelm show up to spoil your holiday fun. Give the Grinch the boot with these 5 tips for a stress-free holiday and reclaim the joy of your holiday season.
1) Have a Clear Intention of What You Want For Your Holiday Season.
Have a clear intention of how you want to feel and what you want to experience during the holidays. Your clear intention for the holiday season will help you prioritize where you spend your time, money, and energy so that you are getting what you want out of the season, rather than spending your time, money, and energy fulfilling the whims and wishes of other people.
Start each day focusing on your intention. My intention for the holidays is to feel calm and peaceful. So each morning as I spend the two-minutes brushing my teeth, I focus on having a calm and peaceful holiday and what that means to me. Starting my day with a clear sense of what I want sets the tone for the rest of my day. Start you day with a clear intention and you'll be surprised to see what a difference this simple act will create for your holiday season.
2) Just Say "No".
It's very easy to feel pressure and obligation to do everything asked of you, and to attend all events and parties you are invited to. While it's wonderful to be so popular, it's also exhausting! The truth is there is always someone else that can manage the obligation if you don't do it, and if not, then it probably wasn't that important in the first place.
Saying "no" is an important boundary that many women struggle with because they feel they should be able to do anything asked of them, and they should be all things to all people. They feel guilty or inadequate if they say "no". But saying "no" and knowing your personal limits and priorities is actually a very powerful stance to take for both yourself and the receiver. Besides, a stressed out cranky "do it all" person is no fun to be around, especially during the holidays.
If you want to win a wonder woman award then go for it – do everything. But if you really want to enjoy your holiday, enjoy the events you attend, and enjoy the people you spend time with then say "yes" to the people and events that bring you joy, and "no" to everyone and everything else. The more you practice saying "no" the easier it will become and the happier you will feel.
3) Schedule in "Me Time".
Every day give yourself some undivided time just for you. This is sacred rejuvenating time to fill your well and connect with your soul, so protect it like you would your children. Even something as simple as 5-minutes a day of "me time" will make a tremendous difference in reducing your stress and increasing your joy.
Your "me time" can be short and simple, such as taking a walk, painting your nails, reading a book, taking a bath, or just sitting in meditative silence for a few minutes. The important thing is to stop, pause, and fill your well before re-engaging in the rest of your day. You'll quickly see an increase in peace and energy by adding rejuvenating "me time" into your schedule. This will be one of your greatest tools for creating a stress-free holiday.
4) Taste The Season.
Holidays are filled with scrumptious smells and treats that delight all of your senses. Unfortunately these sweet delights are also high in sugar and carbohydrates that explode like nuclear bombs on your hormones and neurotransmitters. Holiday treats can trigger epic emotional rollercoaster mood swings, weight gain, and energy drains.
The holidays can be additionally stressful if you're trying to avoid or not eat these seasonal sweets. Denying yourself the pleasure of your favorite goodies may cause you to feel cranky and might even trigger a caloric binge.
Instead of indulging in or denying all of the goodies the season has to offer, choose to savor a "taste" of your favorite holiday treats. So choose carefully what gives you the most delight and then give yourself a bite, a sip, or a savory taste and smell. Then let the sweetness linger in your memory, not on your hips, as you create a sweet stress-free holiday.
5) Savor Each Moment.
The holidays are so busy it's easy to get caught up in the hustle and bustle; the never-ending shopping lines, freezing cold weather, and obligations galore. The excess of it all can drive anyone crazy. So keep yourself calm by focusing on the moment. What peace, joy, or delight can you find in the now. As you stand in a long shopping line think about how happy the receiver will be when they get your gift. Notice the children laughing, playing, and singing Christmas songs. Feel your gratitude from family and friends that love you.
Peace and joy can be found anywhere. But sometimes it takes focusing your attention beyond the noise to find it.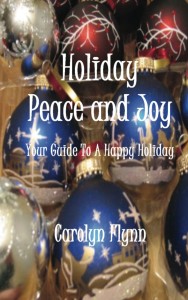 You deserve a stress-free holiday. Get more tips for a stress-free holiday in my book "Holiday Peace and Joy: Your Guide For a Happy Holiday" available at Amazon, Barnes & Noble, iTunes, and your favorite online bookstore.
Peace and Happy Holidays to You!
Carolyn Flynn


Carolyn Flynn, LPC holds a Master's degree in Counseling with additional studies in Nutrition and Holistic Health. She provides a unique blend of mind-body solutions to create health, happiness, and loving relationships. She is a strategist, problem-solver, and intuitive guide. She believes every woman deserves to feel beautiful, serene, and happy. She is committed to helping women create lives they love. She is the author of SMART Talk, Heal Your Grief, and Holiday Peace and Joy.
Carolyn Flynn is a Relationship Expert and author of Heal Your Grief, SMART Talk, and Holiday Peace And Joy.