Halloween was always a fun time at our house. Every year my mom would dress up as a witch, decorate the house and yard and invite all the neighbors to come over. With her spooky music playing in the background she would excitedly await the costume adorned trick-or-treaters.  Our house was at the end of a long circle with many empty lots waiting to be built upon.  My mom was well aware that your average trick-or-treater and accompanying parent were not about to go down that long dark pathway for a couple of houses and fun-size candy bars.  Being the party-girl who loved to celebrate she knew she had to make it worth the journey if she was going to get trick-or-treaters to come to our house.  So not only did she dress up in full costume, decorate, and play scary music, she went big on the treats greeting guests with her cauldron of hot apple cider, fresh glazed donuts and king size candy bars.  Parents and trick-or-treaters would linger in the front entrance enjoying a break from the crisp October night, downing warm drinks and sugary treats, and chatting away about the night's festivities.  Our house was the best trick-or-treating spot in the neighborhood – and we loved it.
– Carolyn Flynn
What are some of your favorite family traditions and childhood memories?
Carolyn Flynn is a Relationship Expert and author of Heal Your Grief, SMART Talk, and Holiday Peace And Joy.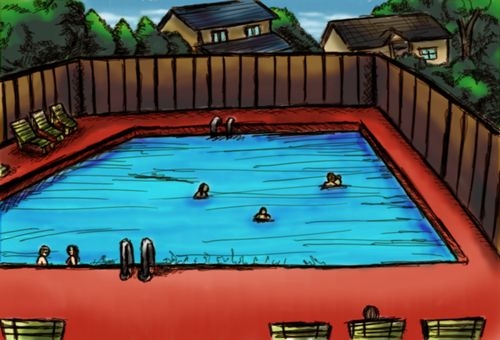 Each stage of my life is filled with special memories. As a child, some of my more memorable times include going swimming, playing dress-up and beauty parlor with my sisters, and taking a special Disneyland trip where I had my grandpa all to myself for an entire day.
Creating a special memory with your spouse and children can be as simple as listening, expressing a positive compliment, sharing in an activity, or helping with a task or project. Giving your time and attention builds family relationships and creates special childhood memories. Time and attention are the key ingredients to creating a life-long memory of love and happiness.
This week take the time to create a special memory with someone in your family.
– Carolyn Flynn
pool drawing by Artist: Peipei
Share your special memories in the comments below.
Carolyn Flynn is a Relationship Expert and author of Heal Your Grief, SMART Talk, and Holiday Peace And Joy.